Item request has been placed!
×
Item request cannot be made.
×

Processing Request
How do I access the Library electronic resources?
When off-campus, you can access the Library's electronic resources using the OpenAthens based authentication system (more instructions can be found at OpenAthens Authentication - menu on the left).
*[This service is only available for currently enrolled/ employed University/ Intercollege students and staff]
            From University of Nicosia premises, access is open for all through the Library website and no passwords are required. 
How do I gain access using my UNic email credentials?
The new OpenAthens based authentication system enables active UNic members to gain off-campus access to e-resourses using their Office 365 (UNic email) username and password:
Select an e-resource and click on its title (for available e-resources see Electronic Resources & Tools section – menu on the left)
(e.g. Library home page > eBooks > EBSCO eBook Collection)
You will be directed to the OpenAthens authentication page
Select your status (UNic Students or UNIC Faculty & Staff)
Sign in with your Office 365 (UNic email) username and password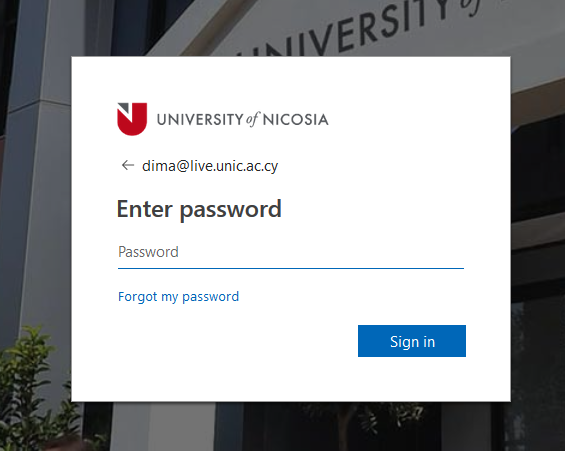 *If you enabled multi-factor authentication you will be prompted for an Authentication code
You will be re-directed to the resource home page. Most e-resources provide a small UNIC logo or text (e.g. Access provided by UNic…) on the page, which indicates that you have successfully gained access and all features are available.

*Important Note: Some e-resources are excluded from OpenAthens authenication. You can gain access to them using Proxy Server Authentication (see menu on the left) or personalized credentials, as indicated by UNic Library.
Your Office 365 subscription (UNic email)
University of Nicosia provides Office 365 Pro subscription to all enrolled students. Office 365 Pro gives you access to online office applications i.e. (Word, Excel, etc.), an e-Mail address that can be accessed either through Outlook Online, or by using Outlook, or any other e-mail application, in addition to several collaboration tools that you might need during your studies.
Username
Your account will be provided during your first registration. You can find your account name (email address) from the Student Intranet:
Log in to the Student Intranet.
Click the 'My Data' tab
Scroll page down until you see your email address on the right of 'My Live Id' field (i.e. ........@live.unic.ac.cy)
Password
Your Office 365 account is provisioned using the same password as your Student Intranet password:
Ground program students receive their password during registration in person
Distance Learning program students receive their password by e-mail included in the general instructions
Help 
If you forgot your username/password, you can contact the UNic Computer Center (+357 22 367000, support@unic.ac.cy).
Library electronic resources and tools
When you set up your browser and your proxy codes are approved (see Off Campus Access section), you will be able to access all of the Library's electronic resources (without need for extra passwords). The available electronic resources and tools can be found below:
UNIC Primo service for searching the Library resources, electronic and print simultaneously (The search box found on the top of the Library home page)
E-book collections from various vendors/publishers.
E-journal collections from various publishers.
Specialised collections of sources (e.g. journal articles, conference proceedings, book chapters etc.) focusing on a certain subject area. Organised alphabetically and by subject.
Reference management tool that allows you to compile, edit and format bibliographies.
How do I connect with the University's proxy server to gain access remotely?